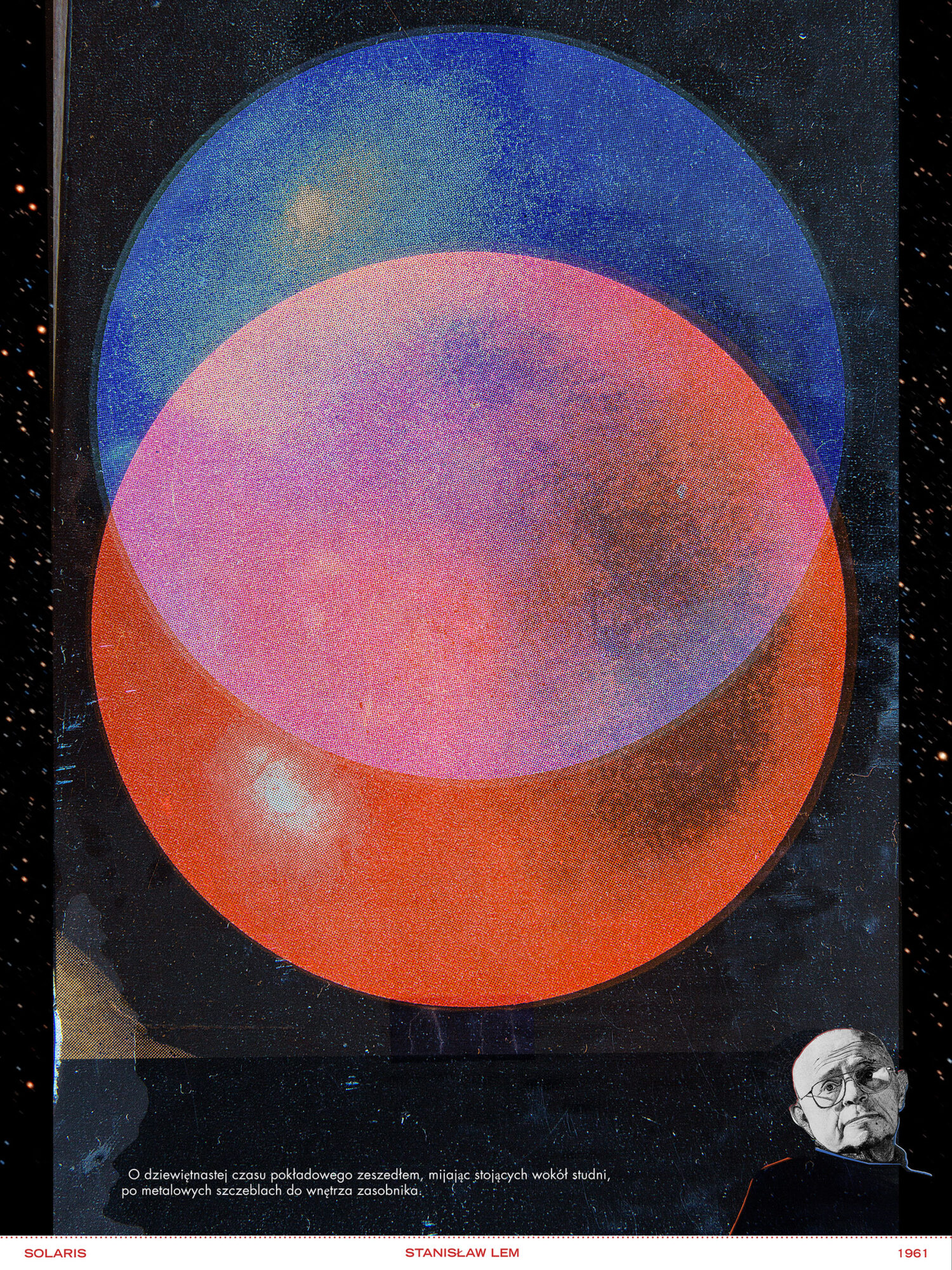 ---
Um neunzehn Uhr Bordzeit stieg ich über die Metallsprossen hinunter zur Raumkapsel – vorbei an den Leuten, die am Zugang zum Schacht standen. So lautet der erste Satz von Solaris, aus dem Polnischen übersetzt von Kurt Kelm, Verlag Volk und Welt, erste Auflage, Berlin (DDR) 1983
Der Text Solaris von Stanislaw Lem und der Planet, der in ihm beschrieben wird, sind als unlösbares Rätsel angelegt. So viele Theorien, wie im Roman die "Solaristik", die Wissenschaft, die sich dem gigantischen Ozean widmet, der den ganzen Planeten Solaris bedeckt, hervorgebracht hat, so viele Interpretationen hat auch der Roman: Er ist eine Parabel über die Grenzen der menschlichen Erkenntnis, die Darstellung der Begegnung mit dem absolut Fremden, Unerklärlichen, das dem Menschen nur als Spiegel dient, auf den er sich zurückgeworfen sieht.
Franz Rottensteiner, Eine Maske namens Solaris, in: Science oder Fiction, Stanislaw Lems Philosophie der Wissenschaft und Technik, Seite 53, Leiden 2017
---
At nineteen o'clock board time, I climbed down the metal rungs to the space capsule – past the people standing at the entrance to the shaft. The first sentence of Solaris, translated from Polish into German by Kurt Kelm, Verlag Volk und Welt, first edition, Berlin (GDR) 1983
The text Solaris by Stanislaw Lem and the planet it describes are set up as an unsolvable riddle. As many theories produced in the novel by "Solaristics", the science dedicated to the gigantic ocean that covers the whole planet Solaris, the novel has as many interpretations: It is a parable about the limits of human knowledge, the representation of the encounter with the absolutely strange, inexplicable, which serves man only as a mirror on which he sees himself thrown back.
Franz Rottensteiner, A Mask Called Solaris, in: Science or Fiction, Stanislaw Lem's Philosophy of Science and Technology, page 53, Leiden 2017
---